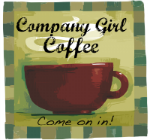 I know I'm a bit biased but is this not one of the cutest little guys you've ever seen?
Five little cousins ranging in age from 8.5 to 7 months
D the Scientist - I love the concentration on that face!
The biggest event of the week was today with the baptism of our newest family member, our 7 month old nephew. Anthony and I were godparents and the little "man of the moment" seemed mildly amused by the whole thing and then fell asleep. 9kg of sleeping baby gets really heavy to hold after a while but is delightful at the same time. We got some lovely photos of the boys with their cousins. In other news, D will present his science experiment "Ocean in a Bottle" to his prep class tomorrow. Being a SAHM (for the next six weeks anyway) I get to go along and watch.
Join
Rachel-Anne
for more Company Girl Coffee Chat